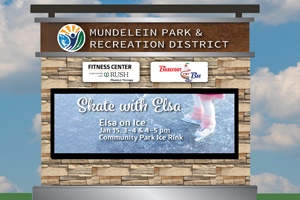 The Mundelein Park & Recreation District is excited to announce that we will be getting a new electronic sign at Keith Mione Community Park. Construction will begin May 10 and last for 4-6 weeks.
Why are we replacing the sign?
Our existing marquee, now 16 years old, has started to fail due to a variety of reasons.  With newer technology, we can communicate an entire message remotely with a quicker response time and provide clearer graphics.
We look forward to Connecting Our Community with up-to-date communications delivered quickly and succinctly.