Personal Training, Personal Attention
It is always a good time to work with a personal trainer. All levels are welcomed. Our Personal, One-on-One and Semi-Private programs offer specialized training to motivate you and get results. Select your own highly certified personal trainer of let us match you up with one, who will guide you from your initial FREE consultation to your post-program maintenance.
Contact:
Nicole Schaller
nschaller@mundeleinparks.org
847.388.5432
---
One Hour Personal Training
One-on-One training
1 Session: $55 Fitness Center member*/$65 nonmember
5 Sessions: $235 Fitness Center member*/$285 nonmember
10 Sessions: $455  Fitness Center Member*/$555 nonmember
Semi-Private Personal Training (for two people)
1 Session: $35 ea Fitness Center member*/$49 ea nonmember
5 Sessions: $165 ea Fitness Center member*/$215 ea nonmember*
Semi-private training involves two persons, signing up at the same time, for the same sessions.
*Member rates: Must hold a Health & Fitness Center Annual membership at the time of purchase and during training sessions.
---
Meet Our Trainers
Maggie Milton
Certifications:
NASM – Certified Personal Trainer
CPR/AED First Aid Certified
Maggie began her fitness career here at the Health & Fitness Center  teaching group fitness and water aerobic classes in 2001. She is certified in Pilates, group fitness, and personal training. As a mother of three, she can relate to the trials of weight loss and as a long-time sufferer of psoriatic arthritis, Maggie understands the importance of physical conditioning to promote joint stability and functional movement. She believes that fitness through exercise is crucial to prevent, prepare or recover from physical ailments or weight issues.
Judy Sneyd
Certifications:
AFFA – Certified Group Fitness Instructor
ISSA – Personal Trainer
PWR! Parkinson's Wellness Recovery Instructor
CPR/AED First Aid Certified
Judy has been working in the fitness industry since 1997. She has taught classes and trained in the local area as well as along the North Shore with experience in group cycling, strength, Pilates, and flexibility training. She has experience working with general fitness, prenatal/postnatal, post-rehab, adolescents, and senior citizens. Judy believes that exercise is best when it is scheduled into your week. Consistency and accountability are the keys to your fitness goal. Judy's mission is to help clients feel comfortable with their fitness programs and hopefully walk away with the feeling that exercise can be fun!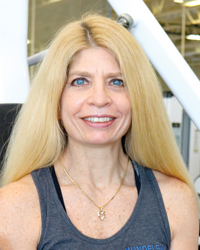 Lisa Sullivan
Certifications:
AFAA-Personal Fitness Trainer
AFAA-Primary Group Exercise
NASM- Corrective Exercise Specialist
TRX Suspension Training
Nautilus Institute- Schwinn Cycle Training
CPR/First Aid/AED Certified
Lisa started her fitness career back in 2003 working at the Grayslake YMCA in customer service. From there she worked the fitness floor and became certified in Group Exercise and Personal Training. She has been instructing since 2007 and became a certified trainer in 2009. Lisa has always been involved in sports playing softball, skiing, tennis, and competing in triathlons. She leads youth sports classes and is a sports camp director in the summer. Lisa believes that exercise not only changes your body. It changes your mind, your attitude, and your mood.