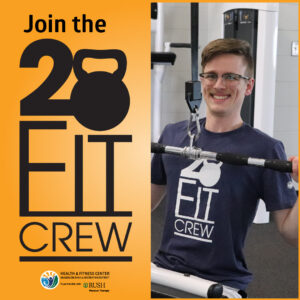 JOIN THE 2023 20 FIT CREW!
How it works!
Visit the Health & Fitness Center 20 times in one month.
What do you get?
You will receive a T-shirt and become part of the 20 Fit Crew. Check out the lobby TV and 20 Fit Crew Corner on the fitness floor for the latest 20 Fit Crew updates!
Who can participate?
20 Fit Crew is open to all Health & Fitness Center Members (excludes track pass).
Those who come 20 or more times for 8 or more months per calendar year will receive a free month of membership.
---
FREE! IC6 Cycle Bike Refresh
If you missed the introduction of the IC6 cycle bikes, now is your chance to join in. Members and nonmembers are invited to demo a class on the most accurate bikes in the world. Registration opens 9/18 for members and 9/25 for nonmembers. Led by Certified Cycle Instructors.
Intro + Demo classes are designed for participants who are new to the IC6 bikes.
Intro + Ride classes consist of bike setup, console features, and a 30–40-minute ride.
FTP Testing will challenge your cycle strength and estimate your race pace. (For riders who have spent at least 4 months on the ic6 bike.)
---
TRX Holiday Hoopla
November 6– December 20
Cost: $45 members/$65 nonmembers
A workout can help eliminate stress and keep you feeling motivated. With suspension training drop-in classes, juggling the holiday hustle and finding time for wellness is easier. Pick what classes are best for your schedule and come as often as you want. Stop by the front desk to sign up.
| | | | |
| --- | --- | --- | --- |
| Format | Day | Date | Time |
| TRX Yoga | M |  Nov 6 | 7 – 7:50 am |
| TRX Strength | W | 8-Nov | 10 – 10:45 am |
| TRX Strength | Su | 12-Nov | 10:15 – 11am |
| TRX Strength | T | 14-Nov | 7:15 – 8 pm |
| TRX Circuit | W | 15-Nov | 7:40 – 8:25 pm |
| TRX Cycle | TH | 16-Nov | 9:30 – 10:15 am |
| TRX Circuit | T | 21-Nov | 5 – 5:45 pm |
| TRX Strength | F | 24-Nov | 8 – 8:45 am |
| TRX Cycle | Su | 26-Nov | 7:10 – 7:55 am |
| TRX Yoga | M | 4-Dec | 7 – 7:50 am |
| TRX Yoga | W | 6-Dec | 7:40 – 8:30 pm |
| TRX Cycle | TH | 7-Dec | 9:30 – 10:15 am |
| TRX Strength | T | 12-Dec | 7:15 – 8 pm |
| TRX Strength | W | 13-Dec | 10 – 10:45 am |
| TRX Circuit | Su | 17-Dec | 10:15 – 11am |
| TRX Yoga | M | 18-Dec | 7 – 7:50 am |
| TRX Circuit | T | 19-Dec | 10 – 10:45 am |
| TRX Yoga | W | 20-Dec | 4:30 – 5:20 pm |