Welcome to Barefoot Bay Family Aquatic Center.
Barefoot Bay is a six-acre, family water retreat. The aquatic center offers amenities for swimmers of all ages. Please view Barefoot Bay's amenities below or follow the links to read more about the park.
---
Address
1461 N Midlothian Road
Mundelein, IL 60060
Phone
847.566.8661
Please note: Children 10 and under must be attended by a person aged 16 or older.

Barefoot Bay is closed for the 2023 season. Thank you for your patronage!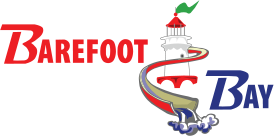 To get full details on the status of a facility or program, click Rainout Line box below, and hover over the green, yellow or red symbol of the facility you want information about.
---
What are your Daily Fees?

2024 daily fees will be announced spring 2024.
Where are you located?
Barefoot Bay is located at 1461 N. Midlothian Road.
The Spray Park is located at 1401 N. Midlothian Road.
Beach is located at 1016 Diamond Lake Road.
If I leave, does my daily admission cover the entire day? Can I come back?
Yes, we have a hand stamp process. Please see a cashier for assistance.
Does my child need a physical pass if he is under the age of 2 years old?
No, but we will add him/her to your family household account.
Height requirements for slides?
What kind of life jacket can I bring? Are lifejackets available? Can I use water wings or floaties?
Personal Floating Devices (PFDs) must be Coast guard approved.
PFDs are available at the facility.
How do I plan a birthday party?
Please contact Erica De Luca, Aquatics Manager, at 847.388.5470 or edeluca@mundeleinparks.org for all birthday party inquiries.
Birthday parties are 2 hours. All paper products are provided, 2 cheese pizzas, beverages, and a reserved eating area.
Fees for 2024 birthday party packages will be announced spring 2024.
When do you open for the season? Close?
Hours of operation are subject to change.
Can I bring in my own food? Cooler fee? Will concessions be open?
No outside food is permitted
No coolers
Concessions will be opened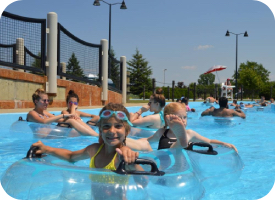 740 ft. Lazy River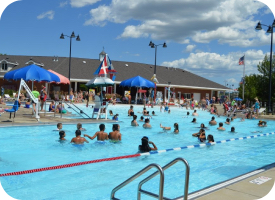 Zero Depth Pool & Lap Lanes
Fenced Tot & Swim Area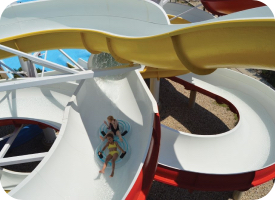 Single & Double Tube Slides
12 ft. Dive Well & Diving Board
Climb on Floating Critter Walk
AquaClimb Water Wall
Learn More